Shout out to all those people who don't know what the opposite of in is.
All that I have in my head are Ireland chants after the Euros. Yes I know they're still going, but we're out so technically they're finished. Le Frexit.
But how have you been? Did you get a chance to try that new restaurant on the moon yet? The food is actually decent, but the atmosphere – well there's none.
We're all about progress here in the garage, and we've really gone through that industrial sized box of tea bags. Now that I think of it… There's surely some way of getting free tea bags from our namesakes… or would it be more ironic if Barry's sorted us out. Hmmmm. Well that's my day's work sorted anyways!
Ah yes. The cars. I suppose that's why you're here. Well folks, it's not exactly a case of what have we done, but more a case of what haven't we done. Begorrah and potatoes have we done a lot! MGB roadsters in paint, Minis in paint, Jaguars in paint and I think even the cat may have got some paint too.
Starting Q3 and the pipeline is looking busy. There'll be quite a few interface meetings depending on my bandwidth. Isn't business talk just the best? You can actually write a page long email and leave the recipient completely bamboozled and not know what is going on (much like this blog… ahem…). I think my favourite words that are stupidly used are "leverage" as in "I was unable to leverage the WiFi" and also "outplaced" as in "If you don't make my tea right the next time I will outplace you to the Dole queue".
With Terenure coming up we've been working as hard as possible on getting some show cars ready, but customer cars have to take priority. *Halo suddenly appears over my head. PG the weather holds for it. PG.
There's a backlog of emails that are currently being replied to, sincerest apologies but we will reply! In other news, with the huge festival that rolls into Clare this weekend, we're hoping to get the original garage in Miltown Malbay re painted in Disney colours. Take a look below: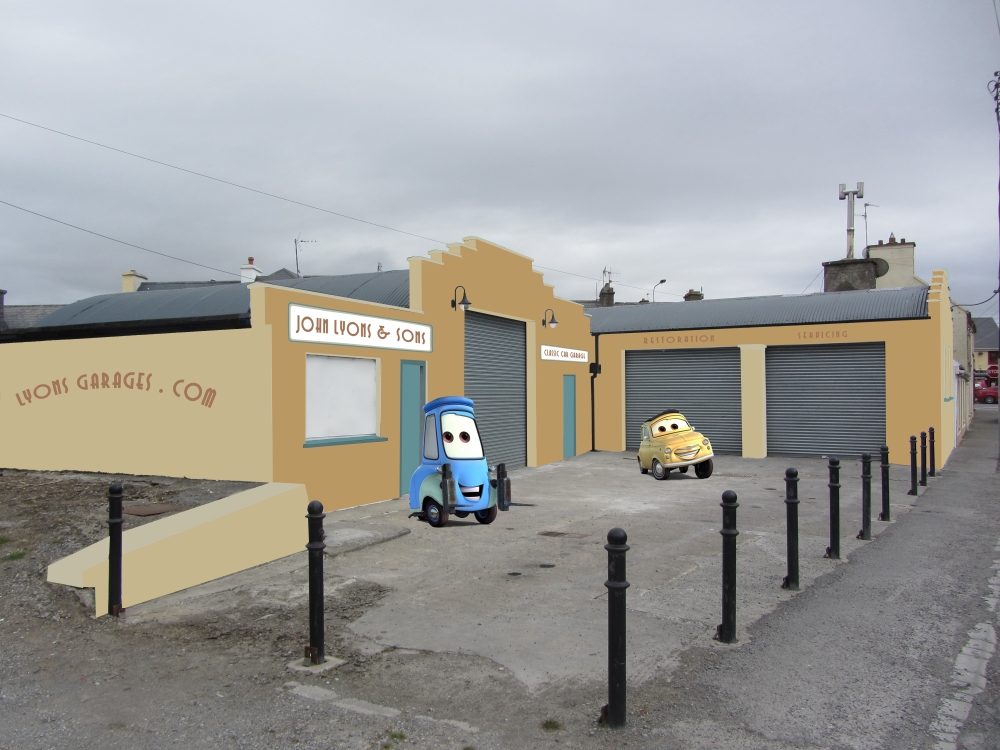 So? What do you think? Anyways, there's genuinely a mountain of work to get through so I best be off. If you're watching Game of Thrones, try not to get too attached to any character. Wowie.
Right. mind yourselves. And for those of you who don't have a car – pedal safe mates.