Classic Cars in Ireland 2021, the expert view. Nice title isn't it? Simple, yet effective.
Salut mes amis! Ca va? Ca va.
Guess who's been watching Lupin? Only the whole country Sharon. How's that Leaving Cert French holding up for you eh? Oh me? No, I did honours level so I turned the subtitles off. It's good practice for when we'll be able to safely travel abroad again.
In 2025.
So here we are. Me in my padded leather reclining office chair with matching footstool, and you at your kitchen table dossing off from work as per. If you've managed to wait until your working day is over to read this well then fair play! You won't actually get any extra credit for it, but if it makes you feel good on the inside then that's all that matters. Good for you pal, good for you.
So we made it through 2020, what a bleak, bleak year. But now we're in 2021 and we've so much more to look forward to! Things like Brexit! "Ooh spicy," you say, "Give us more!" Well, there's also extended lockdowns to enjoy too.
It's probably time for you to finally get fit, learn that new skill, or finish that book you promised yourself to when the first lockdown was announced. 3rd time lucky maybe? Anyway, that's enough motivational spoof for you, we're not here to make you feel better about yourself - we're here to talk about cars. And me.
Sorry, just quickly scrolling through my last post to make sure I follow up on everything…
HAVE YOU SEEN OUR CAR-THEMED COFFEE? We're very proud of it, it tastes absolutely fantastic. If you've ordered your own tin thank you so much for supporting us, it's greatly appreciated! If you haven't ordered a tin… Seriously, what are you doing? I thought we were friends. If it was the other way around I'd have supported you already. You've changed Dude, just saying. But if you've been guilted into doing the right thing, you can see the themes/flavours of coffee over on our Coffee page.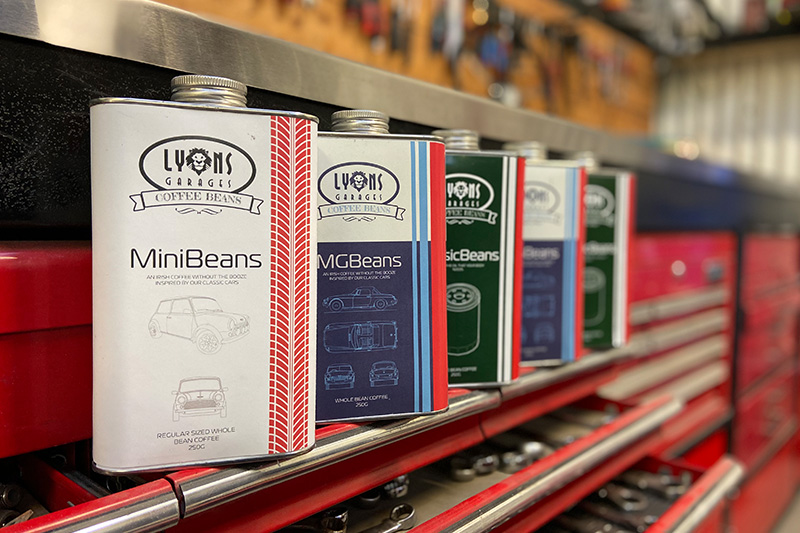 Speaking of coffee, we think it's time that we have Coffee and Cars event here in the Malibu of Ireland. We'll work on the name, it could be Cars and Coffee or Coffee and Cars, we're 50/50 at the minute, but as soon there's an announcement on when we can travel throughout counties and the place is a bit safer for everyone, we'll let you know what the plan is.
Well, the plan is nice cars, our coffee, and good views (obviously). When I say plan I mean the details like dates, locations, etc.
Shall we be serious for a minute and mention Brexit? We're nearly a month in and there's probably more unknowns than knowns. Apart from those originally built in the UK (ie the friendly neighbourhood MG, Rolls, etc.) the importing of classic cars from our ex-closest EU member is now slightly more expensive, while the increase in cost for getting parts delivered is still up in the air. We have some companies pretending Brexit doesn't affect us, whilst others are covering any extra cost.
Look, we know we've got a wide range of readers here, from high IQ to potato, so here's our simplified take on all of this business: To us, this all means that those classics which are already in the country will only increase in value. Now, Jimmy, that doesn't mean your rust bucket out the back is suddenly worth thousands by the way, you still need the usual perfect example to get the best value so it's best to give us a call after you're finished reading this. Parts wise, not to worry, we have a network of suppliers throughout Europe so we're quietly confident in our niche industry. (It's pronounced 'neesh' not 'nitch' by the way).
Right, that's the big awkward serious bit covered, and off we continue! Something a bit lighter now I think… how about… You might see us in an upcoming issue of Classic & Sportscar magazine! I know, I know, it's pretty cool, right?

2021 and we have a mountain of work. Since we spoke last we have a Morris Minor Traveller almost fully fabricated from nought but an inch of steel, and a Toyota Corolla in primer. If it wasn't for me telling you how much metalwork we did on the cars you'd never know…because our work is so good these cars look like new. Do you get my joke, do you? Good.
We have (yes another) MGA that we've been working on too. We're divils for not listening to our own advice to be honest… "Just a quick re-spray," we said. "I don't think so" the MGA said. And so new panels were ordered or fabricated. But sure it's not like we were going anywhere anyway…
Then with our own cars, we're planning on… Ohhh, our own cars. If only we had more time. Or people. Which leads me nicely to this… We're recruiting! We need new people to join our team here in Lyons HQ to help us continue to build the greatest cars in the world. What do we need? It's simple. We need people that know cars. Can you prepare a car for paint? Get in contact! Have you mechanical experience? Get in contact! Can you… You get the idea. Just send an email to This email address is being protected from spambots. You need JavaScript enabled to view it. and we'll do the rest.
Hopefully we'll get a few of our own cars finished in time for the traditional top-down, thumbs up driving. The '77 black MGB Roadster… to keep or to sell though, that is today's question upon which I do ponder. I'm sure you've seen the pictures, but if not there's a few here: Black MGB Roadster. If you're interested in what would genuinely be the best built MG B in the country, get in touch.
We have a couple of cars for sale that we can work with you on to restore to your spec. In our storage, we have Minis, MGs, VWs, and more. So whether you want your own project, or you'd like to join those lucky divils whose cars have a "Built by Lyons Garage" sticker on the back, then get in touch pals.
See below for an idea we've been toying with… A Cars, Coffee and Pizza place. Now taking applications for investors. If you want to know more, you'll have to send a message.

One final update before my nap. It's been a long week, tasting coffees and polishing cars takes it out of you. Ok, drum roll, please… The Lyons Garages Classic Car podcast. Our blog in a podcast with added advice, tips and chat that you can enjoy while out for a walk or sitting down having a nice (Lyons) café. We'll let you know when we launch episode one.
That was a pretty packed blog post, wasn't it? We should have lockdown more often. AMIRITE?
Well, that do be it for me for a day or two, I might take an extra-long nap. I hope you're keeping well, staying safe and wearing your mask. My current mask is a hound's-tooth design, it's Porsche-esque. No Mary, we're not going to be selling them so you'll have to make your own. Our awesome coffee is enough for a while… Now, go buy yourself a tin of coffee.
If you've any thoughts, feedback, ideas, or anything at all, give us a shout on This email address is being protected from spambots. You need JavaScript enabled to view it..
Hopefully your 5k limit has a couple of nice turns. Pedal safe palaminos.